NEW DELHI-At least 24 people have been killed and dozens of others are missing in floods in the southern Indian state of Kerala after heavy rains caused rivers to overflow, cutting off towns and villages.
Days of heavy rainfall in Kerala has caused deadly landslides and the Indian military has joined rescue efforts.
Five children are among the dead. There are fears the death toll could rise further as many people are missing.
Several houses were washed away and people became trapped in the district of Kottayam in Kerala state. Video from the area showed bus passengers being rescued after their vehicle was inundated with floodwater.
Helicopters have been used to fly in supplies and personnel to areas where people have been trapped under debris by the landslides, officials said on Sunday.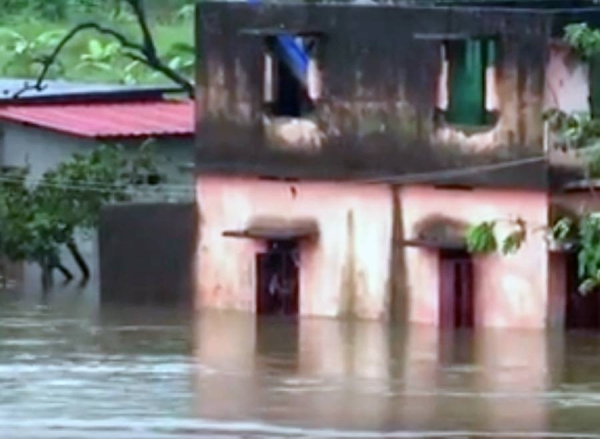 In one tragic incident, a family of six — including a 75-year-old grandmother and three children — were confirmed dead after their home in Kottayam was swept away, news agency PTI reported.
The bodies of another three children — aged eight, seven and four — were also found buried under the debris in Idukki district, where the search continued for at least five other missing people, the agency said.
Fishing boats are being used to evacuate survivors trapped in Kollam and other coastal towns, as sections of road have been swept away and trees uprooted.
Local residents joined rescue teams on Sunday to help remove mud, rocks and fallen trees from affected areas as the search for survivors continued.
Refuge centers have been set up in various areas across the state.
Teams from the National Disaster Response Force and the Indian army and navy were deployed in Kottayam and Idukki districts. Those two districts and four others were reported to have been put on red alert after at least one of them saw more than 12cm of rain by 8.30 p.m. local time on Saturday.
Officials said the intense rainfall has subsided, but they fear the death toll could rise as relief and rescue operations continue.
Home Affairs Minister Amit Shah said the federal government was monitoring the situation in Kerala and would provide any necessary support to the state. He said on Twitter: "Praying for everyone's safety."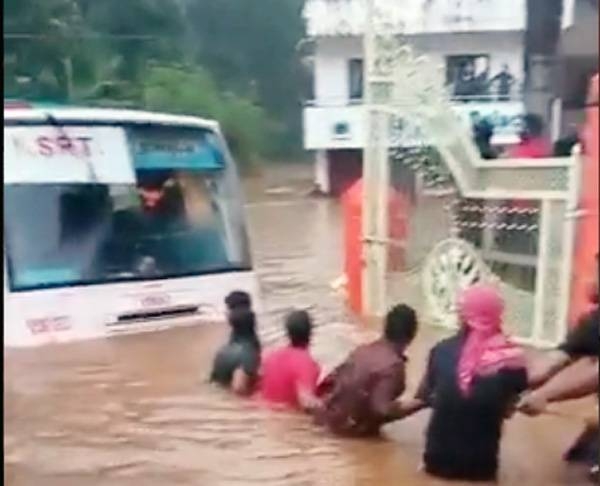 A bus is being pulled out of the water by its passengers as different parts of the southern Indian state of Kerala was hit by flooding on Saturday.
In a statement released on his official Twitter account, Kerala Governor Arif Mohammed Khan said: "My heartfelt condolence to the bereaved families. I request people to be vigilant, pay heed to warnings & cooperate with rescue teams."
It is not uncommon for heavy rainfall to cause flooding and landslides in Kerala, where wetlands and lakes that once acted as natural safeguards against floods have disappeared because of increasing urbanisation and construction.
In 2018, 223 people died and hundreds of thousands were driven from their homes by the worst flooding in Kerala in a century.
An assessment carried out by the federal government that same year found that the state, which has 44 rivers flowing through it, was among the 10 most vulnerable to flooding.
Some parts of neighboring Tamil Nadu state were also reported to have been hit by the flooding. Several parts of the Kanyakumari district in Tamil Nadu received heavy rainfall Saturday. Downpour caused flood-like situation in Thirparappu waterfalls. According to IMD, heavy rainfall is likely in parts of Tamil Nadu for next four days.
The meteorological department on Sunday said heavy rainfall is likely to occur in West Bengal till Oct. 20 owing to a low-pressure area over north Telangana and strong southeasterly wind from the Bay of Bengal.
It advised fishermen not to venture into the sea till Tuesday and warned of a rise in water level in rivers, waterlogging in low-lying areas and landslides in Darjeeling and Kalimpong districts due to the downpour.
Standing crops in fields, with paddy being almost ready for harvest in several districts of the state, could get damaged, Regional Meteorological Centre's deputy director Sanjib Bandopadhyay said.
Some of the southern districts of the state, including Howrah, Hooghly and East Medinipur, have recently experienced floods owing to downpour and overflowing rivers.
Bandopadhyay said the southern districts of the state, including Kolkata, are likely to experience heavy to very heavy rainfall from Sunday. North Bengal districts will experience enhanced rainfall from Monday, he said.
The Met department said the downpour, caused by a low-pressure area over north Telangana and strong southeasterly wind, is likely to continue till Wednesday.
Gusty wind with speed reaching up to 40 to 50 km per hour is likely to prevail over South 24 Parganas and East Medinipur and 30 to 40 kmph over Kolkata, Nadia, Howrah, North 24 Parganas and West Medinipur districts, it added. (Agencies).