MINA-Prince Khaled Al-Faisal, emir of Makkah and advisor to Custodian of the Two Holy Mosques, said that no epidemic diseases have been reported among the Hajj pilgrims on Tarwiyah Day, Thursday, the first day of Hajj.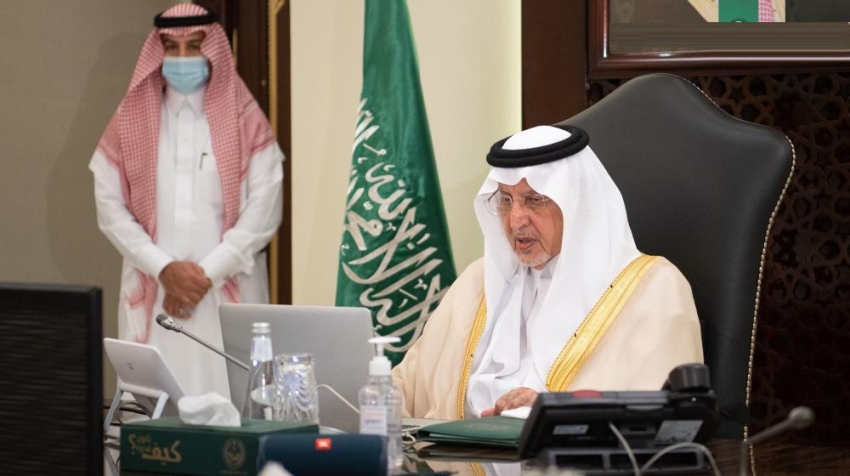 "I thank God Almighty for the kindness to His guests who have converged at the Holy Sites to spend the Day of Tarwiyah without recording any accidents or epidemic diseases," he said in a press conference here on Thursday.
Prince Khaled Al-Faisal, who is also chairman of the Central Hajj Committee, arrived in Mina to follow up on Saudi Arabia's Hajj operation and to review on the ground the services being provided to the pilgrims during this year's Hajj. Deputy Emir of Makkah Prince Badr Bin Sultan and a number of senior military and civilian officials received him.
Prince Khaled Al-Faisal extended his profound thanks and gratitude to Custodian of the Two Holy Mosques King Salman and Crown Prince Mohammed Bin Salman for the material and human capabilities that have been provided to serve the pilgrims to perform their rituals in ease and tranquility.
"Despite the outbreak of coronavirus during the past two years, the Kingdom did not stop the annual pilgrimage and the Muslims performed the rituals in limited numbers according to high level of precautionary measures. This year we return to raising the numbers of pilgrims to one million amid an integrated system of services aimed at facilitating their pilgrimage and maintaining their safety," he said.
Prince Khaled Al-Faisal thanked all those involved in serving the pilgrims, especially volunteers, who have set a unique model in serving the guests of Allah.
150,000 security men and workers serving pilgrims
The Makkah emir announced that the number of field workers and security persons who are engaged in serving the guests of God accounts for over 150,000. "More than 2,500 violators of the residency law and border security regulations of different nationalities were arrested in Makkah while attempting to enter the Holy Sites to perform Hajj without a permit. A total of 19 vehicles that were attempting to transport violators of Hajj regulations were seized, in addition to busting of 76 fake Hajj campaigns," he said.
Prince Khaled Al-Faisal said that more than 111,000 violators and over 68,000 vehicles, which were not licensed to enter Makkah, have been sent back. The Mashaer train will transport 210,000 pilgrims, while another 790,000 pilgrims will be transported by 16,000 modern buses, he added. (SG)