JEDDAH-Minister of Islamic Affairs, Call and Guidance Sheikh Abdullatif Al-Sheikh reassured the condition of worshipers who sustained injuries in a truck crash accident in Jeddah. Five people were injured when a speeding truck crashed into Al-Ammar Mosque while they were offering prayers at the mosque in Al-Montazahat neighborhood in southeast of Jeddah on Monday.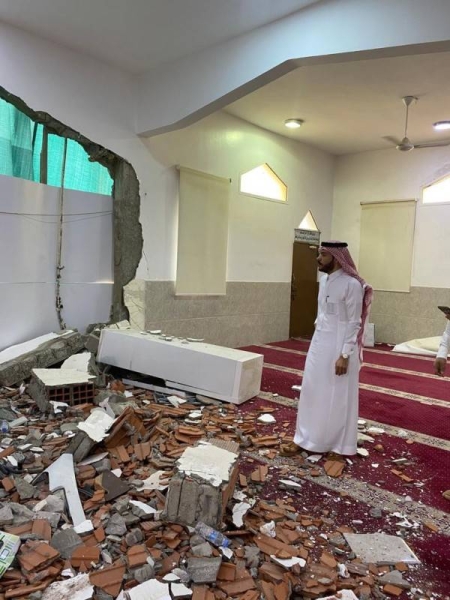 Minister Al-Sheikh issued directives to form a committee immediately to examine the safety of the mosque and explore the prospect of reopening it after carrying out the necessary repair and maintenance works. He also ordered to ensure the structural integrity of the building and that is in coordination with the relevant authorities.
Meanwhile, Sheikh Khalid Al-Maliki, acting director of the Department of Mosques, Call and Guidance in Jeddah governorate, visited the injured at hospital and reassured their condition. He offered prayers for speedy recovery from Minister Al-Sheikh to the worshipers who sustained mild injuries.
Al-Maliki also inspected the mosque premises and followed up the work of the maintenance and operation teams to fix the damage caused to the mosque due to truck crash.
Earlier, the Jeddah Traffic Department said in a statement on its Twitter account that the truck crashed into the mosque, injuring five worshipers who were taken to a nearby hospital.
The video footage of the accident went viral on the Social media. The truck, which belongs to a catering company, smashed the wall of the mosque located on the roadside and plunged into the mosque while the local residents were performing prayers, causing injury to worshipers and material damage to the mosque. (SG)