ARIZONA, Scientists have found the most important indication to what triggers death in a person with coronavirus.
It is the sPLA2-IIA enzyme that is similar to another in a snake known as "Crotalus" to scientists, mostly known as "rattlesnake".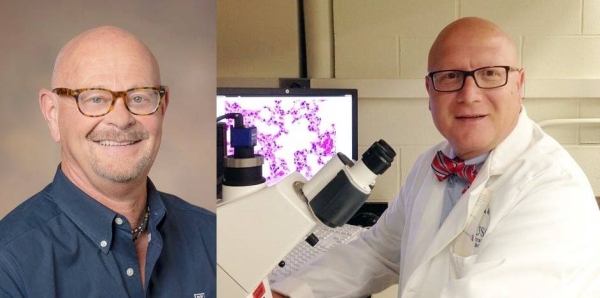 Professor Maurizio Del Boeta, right, and his American counterpart Dr. Floyd Chilton
This enzyme plays an important role in the body's defense against bacterial infections, if the enzyme is low. But if it was high, it acts in the opposite manner by also destroying the vital organs of the body.
Dr. Floyd Chilton, a human genome specialist at the American University of Arizona, and the lead author of a study about the sPLA2-IIA enzyme, revealed some information about the enzyme's relationship to the coronavirus.
Dr. Chilton stressed that this enzyme's numbers are key for a coronavirus patient. "It is what leads to the destruction of the patient's cell membranes, thus contributing to the failure of many organs, and then death," Dr. Chilton said.
Dr. Chilton also said that in attempts to kill the coronavirus this enzyme could lead to death. "In an attempt to kill the virus, large quantities of it are released, and things then go against to expectations, as it destroys both the virus and good cells."
Study participant, Professor Maurizio Del Poeta, a professor of microbiology and immunology, said the study supports efforts to reduce the number of deaths caused by the newcomer.
He stated that the idea of identifying potential "predictors" of the virus came from Dr. Chilton. He added, "It was he who called us last fall with the idea of analyzing lipids and metabolites in blood plasma samples."
Samples were collected from 127 people infected with the virus, which were studied. The team also relied on the data of a second group, from 154 patients, and based on the data from the two groups analyzed it to decode different biochemical enzymes and fat metabolites.
The researchers noted that COVID-19 caused death for 63% of those infected with the virus, if their enzyme levels were equal to or greater than 10 nanograms per milliliter. This they said, "is the most elevated level of the enzyme ever reported."
According to Dr. Chilton that most healthy individual typically have circulating levels of sPLA2-IIA around half a nanogram per milliliter, and the difference is significant and fatal. (Agencies/SG)